Euroledlighting has been producing professional lighting fixtures and lighting systems based on LED for over 15 years, for every type of facility and every industry. The company specializes in the production of linear lighting systems for industrial facilities. The company has a factory located in Poland in the Słupsk Economic Zone.
Our modern factory consists of a measurement laboratory, R&D department, design department, SMT department with several automated pick & place lines and assembly lines. We also produce fittings or their components in the OEM / ODM system.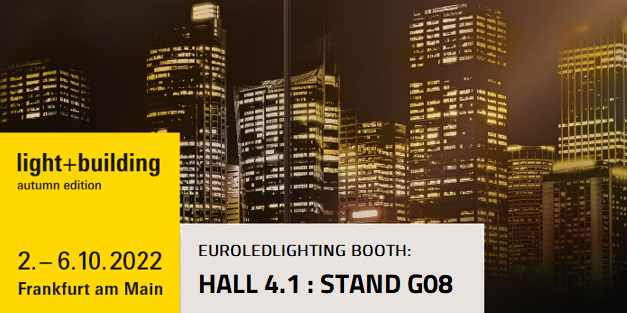 Thank you all for visiting our stand at the most important industry event, Light + Building 2022, where we showed many new products, including an innovative prefabricated lighting system for industrial buildings. At the same time, we invite you to Light + Building 2024.
Euroline is a rail system for linear lighting made entirely of aluminum and can be wired up to 11 wires. The system provides power and mounting for a very large selection of lighting fixtures, including the SWD family with luminous efficacy of 190 lm/W and 37.000 lm per one fixture.
The SWE rail system, produced by Euroledlighting, is innovative on a global scale and not repeatable anywhere else, mainly because of its assembly solutions, flexible parameters, and additional functions.
Euroledlighting Sp. R. Nowak i Wspólnicy Spółka Jawna realizuje projekt dofinansowany z Funduszy Europejskich – Inteligentny Rozwój
POIR.03.04.00-22-0123/20
"Dotacja na kapitał obrotowy dla EUROLEDLIGHTING R.NOWAK I WSPÓLNICY SPÓŁKA JAWNA"
W ramach działania 3.4 "Dotacje na kapitał obrotowy Programu Operacyjnego Inteligentny Rozwój 2014-2020, dofinansowany ze środków Europejskich Funduszy Strukturalnych i Inwestycyjnych", którego celem jest utrzymanie prowadzenia działalności przedsiębiorstwa.

EUROLEDLIGHTING Sp. z o.o. implements a project co-financed from European Funds "Promotion of EUROLEDLIGHTING Sp. z o.o. on selected prospective export markets."