SWE – EUROLINE TRUNKING SYSTEM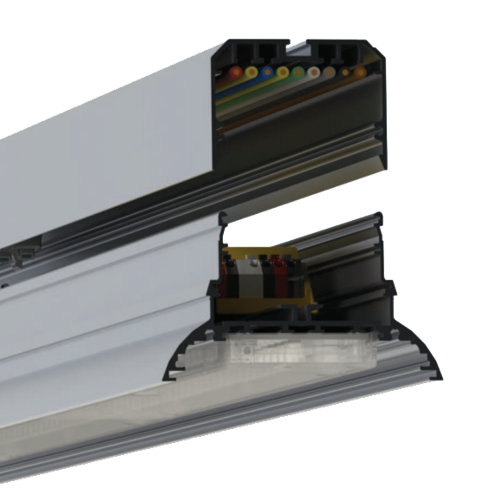 PRODUCT FEATURES:
Integrated rail system for fast, tool-free installation. Trunking with the ability to change the position of any element in any place. Made of extruded aluminum. A wide range of compatible luminaires of various parameters. Electrical installation up to 11 wires. The length of the rails is up to 6m. Includes fall protection. The assembly of the light lines does not require any tools, which significantly speeds up the entire mounting process.
| | |
| --- | --- |
| TENSION | 220-240V – 50/60 Hz |
| HOUSING | aluminum |
| CONNECTOR TYPE | WAGO |
| INSTALLATION | ceiling / suspended |
| COLOR | silver / black |
| IP GRADE | IP 20 / IP40* |
| TEMPERATURE | -30°C … +40°C |
*IP20 for trunking unit without masking cover / IP44 for trunking enclosed with masking cover
* CE declaration of conformity and RoHS available upon request
ABOUT EUROLINE
The installation of lighting fixtures and other devices in trunking rails is one of the basic and most popular methods of lighting installations across all warehouse facilities, logistic places, production halls or commercial zones..
Euroledlighting linear lighting system has been created, modified and expanded for over 10 years. Today, the system consists of several dozen elements, including over 20 types of profiles, fittings, rails and accessories.
All our profiles are made of 100% aluminum, which not only improves the thermal parameters of the luminaire, but also extends the efficiency and life of the luminaires, reduces the weight of the system and allows the delivery of longer elements. Most of the system elements cooperate with each other and can be connected using the "click" method. There are two basic colors of painting: silver and black (anodized). On request, we make other colors from the RAL palette.
SYSTEM ADVANTAGES
Housing made of 100% aluminum
1.5mm and 2.5mm wiring standards; up to 11 wires (standard 7x 2.5mm2)
Rails up to 6m long; assembly time is significantly faster
Quick and tool-free installation (plug and play)
Installation and power supply of any system components of any manufacturer directly from the trunking without the need to use separate installations and structures, e.g. emergency lighting, sensors, cameras, loudspeakers, etc.
Robust WAGO electrical connectors
Additional protection against accidental falling of the luminaires (steel wire, mechanical lock)
A large selection of mounting accessories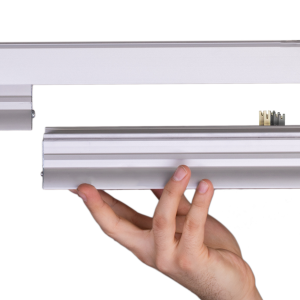 WIRING SYSTEM:
INDEX
LENGTH
WIRING
SWE[C][L]/

3×1.5

1,5 / 3 / 4,5 / 6m
3×1,5mm
SWE[C][L]/

5×1.5

SWE[C][L]/

7×1.5

1,5 / 3 / 4,5 / 6m
7×1,5mm
SWE[C][L]/

9×1.5

1,5 / 3 / 4,5 / 6m
9×1,5mm
SWE[C][L]/

11×1.5

1,5 / 3 / 4,5 / 6m
11×1,5mm
SWE[C][L]/

3×2.5

1,5 / 3 / 4,5 / 6m
3×2,5mm
SWE[C][L]/

5×2.5

1,5 / 3 / 4,5 / 6m
5×2,5mm
SWE[C][L]/

7×2.5

1,5 / 3 / 4,5 / 6m
7×2,5mm
SWE[C][L]/

9×2.5

1,5 / 3 / 4,5 / 6m
5×1,5+4×2,5mm
SWE[C][L]/

11×2.5

1,5 / 3 / 4,5 / 6m
7×1,5+4×2,5mm
DIMENSIONS:
INDEX
LENGTH
WIDTH
HEIGHT

SWE[C]

1.5

/…
1500mm
80mm
37mm
SWE[C]

3

/…
3000mm
80mm
37mm
SWE[C]

4.5

/…
4500mm
80mm
37mm
SWE[C]

6

/…
6000mm
80mm
37mm