SWEK – EUROLINE TRUNKING SYSTEM WITH ADDITIONAL BUS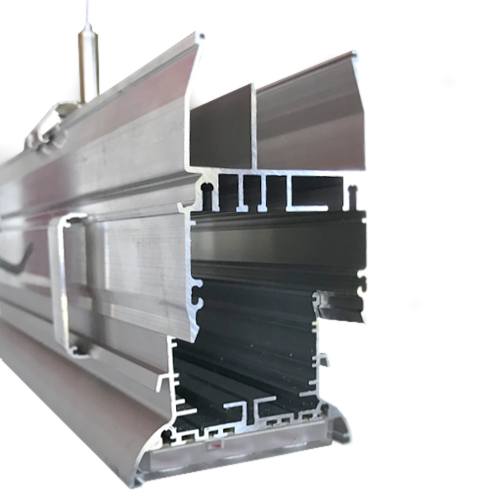 PRODUCT FEATURES:
The trunking rail with an additional chamber (bus) is a response to the needs of installation companies that want to speed up the assembly time and reduce costs by reducing the number of unnecessary installations for conducting electrical cables other than lighting circuits. In this solution, the busbars are prepared to distribute other cables, e.g. low-current cables, power supply, smoke dampers, machines, computer networks, controllers, fire protection or sound systems. SWEK is the only solution of this type on the market – focused on the speed and cost of assembly.
| | |
| --- | --- |
| TENSION | 220-240V – 50/60 Hz |
| HOUSING | aluminum |
| CONNECTOR TYPE | WAGO |
| INSTALLATION | ceiling / suspended |
| HOUSING | silver |
| IP GRADE | IP 20 / IP 44 |
| TEMPERATURE | -30°C … +40°C |
*IP20 for trunking unit without masking cover / IP44 for trunking enclosed with masking cover
* CE declaration of conformity and RoHS available upon request
ABOUT EUROLINE
The installation of lighting fixtures and other devices in trunking rails is one of the basic and most popular methods of lighting installations across all warehouse facilities, logistic places, production halls or commercial zones..
Euroledlighting linear lighting system has been created, modified and expanded for over 10 years. Today, the system consists of several dozen elements, including over 20 types of profiles, fittings, rails and accessories.
All our profiles are made of 100% aluminum, which not only improves the thermal parameters of the luminaire, but also extends the efficiency and life of the luminaires, reduces the weight of the system and allows the delivery of longer elements. Most of the system elements cooperate with each other and can be connected using the "click" method.
SYSTEM ADVENTAGES
Electrical installation up to 11 wires with a diameter of 1.5 and 2.5 mm
Housing is made of aluminum (the 6-meter module weighs only 4.5 kg)
Tool-free assembly of rails, luminaires and other system components (e.g. emergency lighting, sensors, cameras)
System connectors, sockets, and plugs from WAGO
Additional safety wire to prevent the luminaire from falling from a height, e.g. in the event of mechanical loosening of the luminaire with a forklift
Additional bus for extra wiring, e.g. fire protection, cameras and local network, power lines for other electrical circuits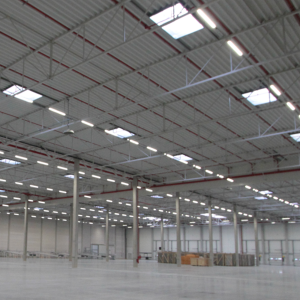 BENEFITS FOR KEY CONTRACTORS, SUB-CONTRACTORS AND TENANTS
Several times faster assembly (plug & play) of the installation of lighting fixtures compared to traditional solutions. It allows you to speed up the work and complete construction faster, which is a key to increasing profitability and the possibility of accepting more orders with the same staff and equipment
An additional two-chamber bus allows for additional wiring other than lighting: low voltage cables, fire protection, control, sensors, power supply of flaps, gates, heaters, computers, sockets, etc., without the need to install separate expensive wire tracks
Lowering the total cost of the lighting installation may make the contractor's offer more attractive and make more orders possible
Simultaneous assembly of up to 6m rails by one person. All the necessary elements of the installation (except for the suspension) are contained in one module
System gives possibility for fast and inexpensive adaptation or modification of the existing lighting system, if necessary, e.g. adding or changing a rack system, changing escape routes with a new arrangement of emergency luminaires, or returning to the original layout (in the event of moving out of the rented space).
WIRING SYSTEM:
INDEX
LENGTH
WIRING
SWEK[C][L]/

3×1.5

1,5 / 3 / 4,5 / 6m
3×1,5mm
SWEK[C][L]/

5×1.5

SWEK[C][L]/

7×1.5

1,5 / 3 / 4,5 / 6m
7×1,5mm
SWEK[C][L]/

9×1.5

1,5 / 3 / 4,5 / 6m
9×1,5mm
SWEK[C][L]/

11×1.5

1,5 / 3 / 4,5 / 6m
11×1,5mm
SWEK[C][L]/

3×2.5

1,5 / 3 / 4,5 / 6m
3×2,5mm
SWEK[C][L]/

5×2.5

1,5 / 3 / 4,5 / 6m
5×2,5mm
SWEK[C][L]/

7×2.5

1,5 / 3 / 4,5 / 6m
7×2,5mm
SWEK[C][L]/

9×2.5

1,5 / 3 / 4,5 / 6m
5×1,5+4×2,5mm
SWEK[C][L]/

11×2.5

1,5 / 3 / 4,5 / 6m
7×1,5+4×2,5mm
DIMENSIONS:
INDEX
WIDTH
LENGTH
HEIGHT

SWEK[C]

1.5

/…
1500mm
55mm
70mm
SWEK[C]

3

/…
3000mm
55mm
70mm
SWEK[C]

4.5

/…
4500mm
55mm
70mm
SWEK[C]

6

/…
6000mm
55mm
70mm