SWDA – LINEAR LUMINAIRE (DOUBLE DIFFUSER)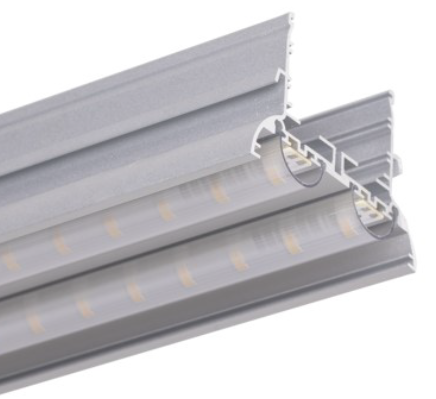 PRODUCT FEATURES:
Linear LED luminaire made of aluminum, based on two semi-circular diffusers arranged directly at LED modules. Diffusers available in three variants: transparent, milky and prismatic. Perfect solution for commercial and industrial spaces. The beam angle of luminaires based on this solution is approx. 110 deg.
| | |
| --- | --- |
| POWER | 40 – 160 W |
| TENSION | 220-240 V – 50/60 Hz |
| POWER SUPPLY | OSRAM |
| MANAGEMENT | ON-OFF / DALI / DIMM |
| LIFESPAN | L80/B50 70.000h – L80/B10 50.000h |
| | |
| --- | --- |
| HOUSING | aluminum |
| COLOR | silver / black / white |
| INSTALLATION | single / linear / trunking |
| IP PROTECTION | IP 20 / IP 44 |
| AMBIENT TEMPERATURE | -25° … +35° |
* CE declaration of conformity and RoHS available upon request
** IP20 for luminaires opened from top / IP44 for luminaires closed from top by the cover
| | |
| --- | --- |
| COLOR TEMPERATURE | 3200 / 4000 / 5200 / 5700 / 6500 K |
| BEAM ANGLE | 110° ( prismatic / opal / transparent ) |
| LUMINOUS FLUX | 5200 – 24800 lm |
| CRI FACTOR | Ra >80 / Ra >90 |
| MACADAM CONSISTENCY | 3 SDCM |
| UGR FACTOR | < 22 UGR |

ABOUT EUROLINE
One of the key products that are completely designed, patented and manufactured by Euroledlighting is an integrated linear LED system called Euroline.
Euroledlighting linear lighting system has been created, modified and expanded for over 10 years. Today, the system consists of several dozen elements, including over 20 types of profiles, fittings, rails and accessories.
Trunking rails and luminaries that belong to Euroline family are entirely made of aluminum. This system an innovative solution on a global scale – it allows very fast and tool-less installation of luminaries and other lighting system components to the trunking rail. This solution competes with all known trunking rail systems available on the market.
SYSTEM ADVENTAGES
Installation of Euroline system does not require any tools; just plug and play!
Quick, easy and intuitive installation method that significantly reduces its time and cost
System connectors, sockets, and plugs from WAGO
Lighting efficiency up to 180lm/W (net)
Luminaries customization according to customers needs (full optimization of the project)
Full spectrum of light temperature, including w special non-standard colors
Variety of installation or powering possibilities
Control & management by means of ex. DALI protocol
3 standard housing colors (silver, white, black); non-standard colors – from RAL palette available upon request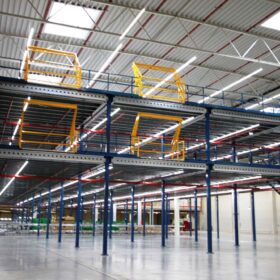 SINGLE UNIT INSTALATIONS
SWD luminaires can be mounted individually as suspended or surface-mounted lamps. The parameters of the fittings are each time fully optimized for the project purposes. This applies to: luminous flux, color temperature or color rendering index, management, UGR, and even housing colors.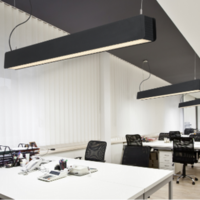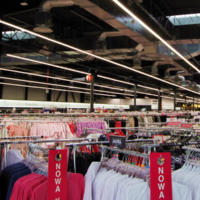 CONTINUOUS LIGHTING LINES
SWD luminaires can be combined into continuous lighting lines. It is the solution most commonly used on commercial spaces. Our linear system is the fastest assembled solution on the market, mainly due to mounting solutions, plug and play, system weight (aluminum), length of sections (up to 4m). The linear system is also characterized by inexpensive electrical connectors or end caps.
TRUNKING RAILS INSTALLATION
Installation of lighting fittings and other devices into trunking rails is one of the basic and most popular assembly methods on storage objects, logistics places, production facilities or commercial zones. The system gives a lot of possibilities, which are: 1.5 and 2.5mm2 up to 11 wiring; delivery of rails up to 6m long which significantly speeds up the installation time; quick and plug and play installation; powering of any system components, of any manufacturer, directly from Euroline trunking.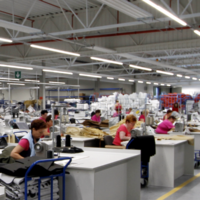 DIMENSIONS:
| | | | |
| --- | --- | --- | --- |
| INDEX | LENGTH | WIDTH | HEIGHT |
| SWDA[M][C]15… | 1500mm | 80mm | 47mm |
| SWDA[M][C]22… | 2250mm | 80mm | 47mm |
| SWDA[M][C]30… | 3000mm | 80mm | 47mm |
| SWDA[M][C]37… | 3750mm | 80mm | 47mm |